These troops are trained in the Stable. All Cavalry have decent Defence and HP and High attack. There are two types of Cavalry.
Melee: I,II,III,Vi,VIII,X. Melee cavalry have generally lower attack than ranged cavalry. They are targeted by enemy troops before ranged cavalry are. They have a chance to dodge attacks; i.e. not take damage from this attack.
Ranged: IV,V,VII,IX. Ranged cavalry have generally higher attack than melee cavalry. They get increased attack during battles in Resource plots.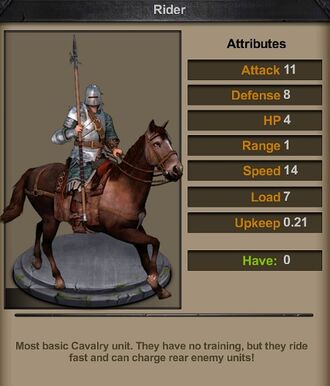 | Level | Wood | Food | Iron | Mithril | Train Time / Unit | Train Time / 100 Units |
| --- | --- | --- | --- | --- | --- | --- |
| 1 | - | 57 | - | - | 00:00:11 | 00:19:10 |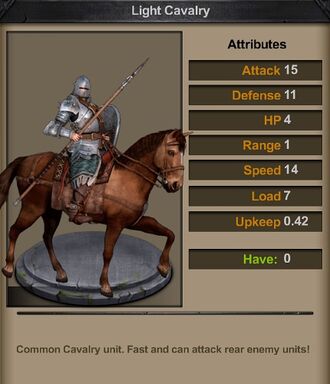 | Level | Wood | Food | Iron | MIthril | Train Time / Unit | Train Time / 100 Units |
| --- | --- | --- | --- | --- | --- | --- |
| 2 | - | 100 | - | - | 00:00:14 | 00:23:58 |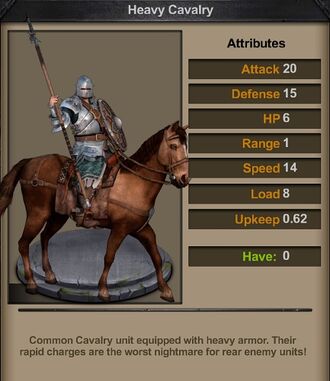 | Level | Wood | Food | Iron | Mithril | Train Time / Unit | Train Time  / 100 Units |
| --- | --- | --- | --- | --- | --- | --- |
| 3 | - | 155 | - | - | 00:00:18 | 00:31:38 |
| Level | Wood | Food | Iron | Mithril | Train Time / Unit | Train Time / 100 Units |
| --- | --- | --- | --- | --- | --- | --- |
| 4 | 20 | 175 | 2 | - | 00:00:23 | 00:38:40 |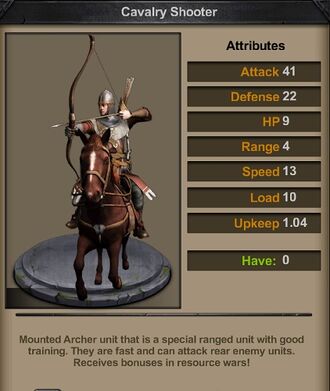 | Level | Wood | Food | Iron | Mithril | Train Time / Unit | Train Time / 100 Units |
| --- | --- | --- | --- | --- | --- | --- |
| 5 | 27 | 228 | 5 | - | 00:00:30 | 00:50:59 |